Shell over at Things I Can't Say did a Rock the Baby Bump last month.  Remember?
This month she is doing a Rock the Baby link-up.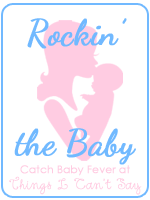 Since I only have one baby to rock, I had to get creative here.
Not that I have anything against putting up a million baby pictures of just Eddie, but I thought I would treat you to something different.
So I have for you…
Mom+Dad = Eddie
You will love it…I just know.
Mom
+ Dad
= Eddie
Mom
+Dad
=Eddie
Mom
+Dad
= Eddie
can you stand more?  Ok…a one more…
Mom
+ Dad
= Eddie
So what do you think?  Is Eddie a pretty good mix of me and Cort?
*************
Did you enter this cutie giveaway yet?
And there is a NEW giveaway too…you will want this if you have any desire to move to wordpress!