This is it!  The end of the For the Love…Of Blogging Week!
You made it to the end…and as a reward?  GIVEAWAYS!
The third giveaway today is from someone who is so awesome…
My super awesome friend,  Jackie, from With Just a Bit of Magic: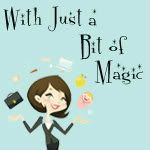 Jackie is a lot like me…she is a working mom trying to juggle everything in life.  And when I think I have it tough with just Eddie?  I remember she has FOUR to keep track of care for every day!
Jackie doesn't have a shop, but she is a wonderful person who contacted me with something she would like for one of you to have….
Jackie just HAPPENS to have an extra Thomas set on hand that she would LOVE to giveaway to one of you!!!
You have TWO ways to enter:
1) Tell me who you would give this Thomas set to and why!
and/or
2) Tweet about the giveaway and then come here and leave a comment that you tweeted.  You can make something up, but if you are all lazy like I am, you can just copy and paste this:
I love blogging and I love giveaways!  Enter to win with @ksluiter and @JackieCross http://bit.ly/eLs3za
That's it!
You should follow her sweetness on twitter.
You should like LOVE her on facebook
and of COURSE you should follow her blog !
This giveaway ends Sunday, January 30 at noon est.  Winners will be chosen by Random.org and posted that same day.
The fine print:  Jackie Cross is providing the spoils for this giveaway.  I have gotten nothing in return other than the joy of giving you something I love from someone I love.