I've written before about how I don't run this blog in order to make money.
But I do spend money for this blog to be possible.  I pay a fee for my URL and I pay for hosting which is somewhere in the vicinity of less than $100 a year.
There are a few other random expenses (a design redo every now and then–which can be pricey depending on what I do, head shots so this thing looks professional, business cards, and conferences), but most of those aren't regular expenses.
For that reason, I do sell ad space here on the blog.  When a business chooses to advertise with Sluiter Nation, they don't just get that little 150×150 ad on the side.  They get my loyalty, my promoting skills, and lots of times, my friendship.
Any money that is made above and beyond what I need for this space gets spent mostly on my boys with the occasional treat for myself (I may have developed a slight addiction to Starbucks since being home with Charlie).
This quarter, I have seven ads over in the side bar and I would like to introduce them to you.
Twenty Five Design
Torie of Twenty Five Design has been part of Sluiter Nation for a VERY long time.  Ever since she saved my hair emergency two years ago, she and I have been fast friends.
I adore her handiwork.  I think I own like five of her headbands, a necklace, a couple rings, clips, bobby pins…I just am addicted.  And I always get loads of compliments!
And super affordable?  Heck yes!  Everything is under $20…and most is under $10!  She is my Go To when I recommend cute accessories to people.
Like her on facebook and follow her on twitter.
Jaborandi and Grove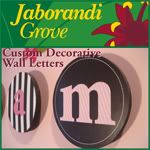 Jen of Jaborandi and Grove is one of the newer additions to Sluiter Nation.  She helped us out when we were looking for a way to put Charlie's name on the wall of the nursery.
Jen does an outstanding job of creating fun, custom letters/words for any room and any occasion.  Want something that you can switch out with the season/holidays?  Get some custom-letters done by Jen.  She brings the cute to your walls.
I think she is pretty affordable too.  I mean, it will depend what you go with, but considering it's all custom, under $10 per letter is pretty good.
Like her on facebook and follow her on twitter.
Cookies By Becky
I am irrationally excited about Becky of Cookies by Becky being one of the newest members of Sluiter Nation.  She answered the call and the MINUTE I saw her goods (the cookies, you pervs), I was a fan.
We are planning a train theme for Eddie's third birthday, and I will TOTALLY be contacting Becky for train cookies for our party favors.
And did you see her button?  If you use the code sluiternation YOU get 10% your custom cookie order.
Cookies are generally $30 for a dozen, which is great considering they are all individually packaged all cute and ready to hand out at your party.
Like her on facebook and follow her on twitter.
Sew Curly

I have so much love for Kristina of Sew Curly it's not even funny.  She is one of the most lovely, talented women in all the interwebs.  And kind.  She has the biggest, kindest heart of pretty much anyone.
Kristina makes everything from custom Tshirts to burp clothes to snuggle squares to snack pouches. She can do IT ALL. I have my eye on her new minky blankets with personalized embroidery for Charlie as well as a little square that attaches to his pipey so we can find it in his crib in the night.  Also he needs some new burp clothes.  We have some with Eddie's name, but aren't using them because, well, obviously.
Seriously, I could spend all my allowance money in Kristina's shop.
Like her on facebook and follow her on twitter.
Changing the Universe: the Shop
Nicci of Changing the Universe has been a blogging buddy of mine for awhile, so when she decided to start her small business, I was ALL ABOUT helping her get it off the ground.
A couple weeks ago we decided we needed to do something about our throw pillows.  They were that smooth, sateen type stuff.  Ok before kids, but since?  They have been spilled on, drooled on, and spit up on…none of which ever comes out.  I remembered that Nicci does pillow covers and BOOM! It's a much brighter, cheerier room!
Like her on facebook and follower her on twitter!
CUTEure Creations

Angie of CUTEure Creations is someone I met via facebook.  I fell in love immediately with her talent…I mean, it helps that her talent is modeled on super cute babies, I suppose.
I needed a new hat for Charlie for his newborn pictures, and I immediately went to Angie for this little bear hat.  Charlie has worn it out a few times since this spring has been so breezy and we've had some days where it dips down into the 40's.  I got stopped in Target by someone wanting to know where I got it.
Like her on facebook.
GCS Design and Print
Courtney of GCS Design and Print…I don't even know where to start with this lady.  She has done so much for me.  So much.  Plus she has been one of the biggest cheerleaders in my corner with my battle with depression and anxiety.  Getting to hug her at BlogHer last year was so awesome.  SO awesome.  I only wish we had had more time.  Like a whole day together.
She is the creative genius behind my business cards, the decorations at Eddie's 2nd birthday party, this blog's design, and Charlie's birth announcement. She is the only one I go to when I have graphic design needs of ANY kind.
Like her on facebook and follow her on twitter.
So there you have it!  My newest "sponsors".
I really love and believe in all of them, and I am so excited to share them with you.
Please take some time to check them out.  I wouldn't dedicate a post and blog space to just anyone.  They really rock.
Oh, and coming soon to Sluiter Nation is Coconut Robot.