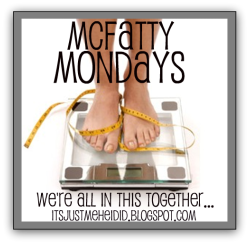 I really didn't feel very well this week.  I was run down, way too tired again, battling a stuffy nose, and most of all?  Way overworked–yet again.  In fact, I went in to work today (Sunday).  Blech.
Right now I am trying to think about what my eating habits have been this week.  I can't honestly remember.  I know there were some sandwiches in there.  I tried to drink more water.  I made pretty nutritious meals for the family.
But I didn't record any of it.  I just hoped that it was fine.
And guess what?  I am down two more pounds!  I am at 190 even!
Woo hoo!
This makes me feel like I am on the right track.  I am cleaning up my eating habits.  Although I haven't worked any regular exercise in yet, but that is coming.
Yes, friends, as of this week, I have officially turned down teaching at the community college for next semester.  I will still have six classes during the day, but my nights will be free to come home and be with my family.
Cortney will still be bowling on Tuesday nights through March, and taking one class in the evening through February (he is also going to be doing an independent study for his wellness credit), so we will have LOTS more family time.
This will also mean I will be able to hit the gym about once a week and hopefully get in some yoga, strengthening or cardio. I really can't wait!  I know with the habit changes I am making now, once I make the leap to some regular exercise, things will really start moving!
So hooray for those two pounds gone and hooray to only eight more weeks until I get my evenings back!
Also?  This past week?  My post on teen pregnancy "Took the Cake" on Confessions of a Conflicted Mean Girl:
I really tried to get some real cake out of this, but I don't think that is what Andrea had in mind.  And since I am trying to be LESS of a McFatty, it's probably better that I don't get real cake.  Ahem.
Also?  Tomorrow is Top Ten Tuesday!  Tune in for my Top Ten Vacation Memories.  And if you have a Top Ten of your own?  You will be able to link up!  Yay!
Now excuse me while I go have some homemade apple crisp.
What?
I LOST 2 pounds remember?