My best friend since the 7th grade lives in Chicago which takes almost three hours one-way to get to.  We don't see each other as much as either of us would like.
But back in the day…in high school…we were inseparable. We almost never had classes together–I'm not sure why–but we always found a way to see each other between classes. I can still remember my senior year schedule after 18 years:
I didn't see anyone before school because I was always late, but after first hour Spanish 3, we passed in the hallway on my way to government (this is also where she would tell me if her first hour government class got donuts so I could tell our class and get some for us too).
Third hour we had advanced psychology together. This is where we watched a birthing video, a kid fainted, and she yelled out, "OH MY GOD! WHAT IS THAT BABY DOING TO THAT WOMAN?!?"  We both vowed to never have babies until we were in our 30's. (Eddie was born when I was 31 and she gave birth at 34).
Fourth hour I had band and she went to lunch.
After band I had lunch and we met by my locker to walk to 5th hour together. Every day we passed an English teacher named Mr. Larsen and I said, "Hi to my favorite teacher I never had!" and he said hello to us always calling my BFF his favorite red-headed student.
We sat near the front in our Brit Lit class together. Daily we made our teacher chuckle with our "verbal fluencies" discussing whatever topic he told us to.
Neither of us had a last hour in the building. I was a teacher's aid for the band director and she did some community learning thing where she assisted an elementary teacher. Some days, when neither of us had to report, we did a 7-11 run.
Come to think of it, we did a LOT of 7-11 runs back then.
We were most definitely a dynamic duo.
I miss that randomness now.
There are MANY days when I think, "what I wouldn't give to jump in the old Nissan, pick up T, and hit 7-11 for a Big Gulp and a King Size Butterfinger."
After those 7-11 runs we usually went back to her house and watched movies. So many movies. Reality Bites, Pretty in Pink, Footloose and the Wayne's World movies.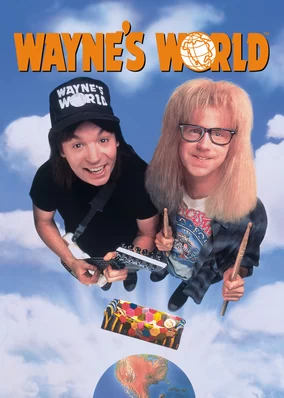 Oh the Wayne's World movies…such great memories. Party on!
Anyway, I miss T. I miss our togetherness and how we didn't have to talk about deep issues or gossip about other people, we just could hang out and discuss why in the world the 7-11 Big Gulp cup said that Mt Dew was available when our store didn't have it. False advertising, yo.
Sometimes, like Wayne and Garth, the best friends are those who are just fun and get you without having to have deep conversations.
Although I like to think that if we still lived close, we would have those big discussions about religion, politics, child-raising, etc.But maybe not.
What I know is this: If you have a person in your life who you can be half of a duo with, someone who makes you laugh and is easy to be around, say an extra "thank you" for that person. Because I miss mine.
**************
Disclosure: This is not a sponsored post. All thoughts and opinions are mine. Netflix provided my family with a free year subscription of Netflix and an ipad mini to watch it on.