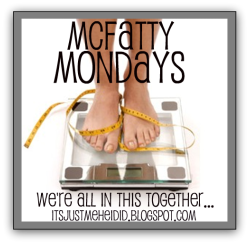 Well, here I am. Back for my second instillation of McFatty Mondays. And it's not a good report, people.
Should I start with the bad news or the good news first? I'm going with bad news first…
I fricking GAINED weight. That's right. I went from 195 to 198.5. There are a few contributing factors to this, but even with those? I really thought I would at least maintain.
Here is how the week went:
First of all, after much debate about how I would go about being more healthy, Miranda convinced me that for the lazy bum that I am, MyPlate at livestrong.com was the best tool. It has been working nicely for her, and I dare to bet she is more active than I am what with her coaching colorguard and all. So I signed up for the free service.
I entered in all my vitals: height, weight, activity level (which I am wondering if I over-estimated), and it calculated my daily intake as 2117 calories per day if I want to lose 1.5 pounds per week. This seemed reasonable.
I learned a lot right off on the first day. For one, my morning coffee with cream? 60 calories. And my once-a-week (sometimes twice-a-week) pumpkin spice latte from Starbucks? Has 600 calories. Yes, another zero added to my normal coffee. Ouch.
I have always been completely starving by lunch time. I realized this is because even after lunch, I usually only consume about 500 calories total for the day. This is CLEARLY not enough and it explains why I hit a wall right around the last hour of the day and don't feel like getting ANY work done once school is done.
Counting calories always seemed like a HORRIBLE task to me, but I found out that by entering things in, I learned what had a million calories and what seemed ok. I also noticed myself saying no to random snacks because A)i just knew they would have a ton of calories that I didn't want and B)if it was only like a few bites of something it seemed useless to try to figure out the calories, so I would just pass.
Now with all this noticing what I was eating, I still didn't eat the best I could. We had already gotten groceries for the week, so I just ate what we had.
I did start adding a fried egg and some wheat toast as breakfast. Cort got up and made it for me so I wouldn't leave the house hungry. This helped some, but I realized I need a mid-morning snack too–something to munch on on my planning hour to get me through to lunch. So instead of having diet coke as a snack, this coming week I have yogurt and granola to try.
Every day except Friday I kept it under my allotted daily calories, so even though I wasn't very active, I figured I would at least stay at 195. I almost fell off the scale today when I saw 198.5. Especially after walking all over Chicago yesterday for hours!
So what could possibly be the good news in all of this?
For one, I am now aware of what I am putting into my body. In fact, I haven't been this aware of my choices since I was pregnant with Eddie.
Secondly? Holy support, batman! You all are amazing. I was so afraid to actually hit publish and tell you my weight AND publish pictures of my fatness, but you all totally lifted me up and supported me and loved me. I am now AGAIN embarrassed to hit "publish" because I let you all down…I GAINED weight.
However, I am giving each meal a make-over one week at a time. This week it's breakfast and my breakfast snack. With the help of Kristin, I now have TONS of choices for breakfast that actually sound GOOD to me. Cort bought eggs, wheat toast, tortillas, nutella, yogurt, and granola with groceries today. I can have a healthy breakfast AND a healthy mid-morning snack, and hopefully this will help me stay full-feeling all afternoon.
So the first week of McFatty? Huge fail whale. But I have a plan. Oh yes…I have a plan.
And if you want to read something sweet and loving that I wrote, you should go check out my post for the series, Small Moments Monday, over at Nichole's blog, In These Small Moments. I am beyond honored that she asked me to be a part of this, and I chose a small moment that I look forward to every day. I hope you enjoy reading my post!